I only have my photos - Izah's fills in a lot of the gaps.

Tuesday we got in, walked around the resort and found the pool and beach area. We ate a little conch shack then changed and went into the pool. Ate at the Marketplace across the street (open area full of shops, restaurnts, bars) for dinner and had a few drinks. Met a local Hayward. I mistakenly heard Haywood, which prompted many jokes. It was obvious he liked me, but I was not interested at all, so I constantly yelled at Izah "Hey I would not!"

Wednesday we rented a car (which was much cheaper than taxi-ing around for our plans) and went to the Lucayan National Park. Driving on the left side of the road was ... interesting.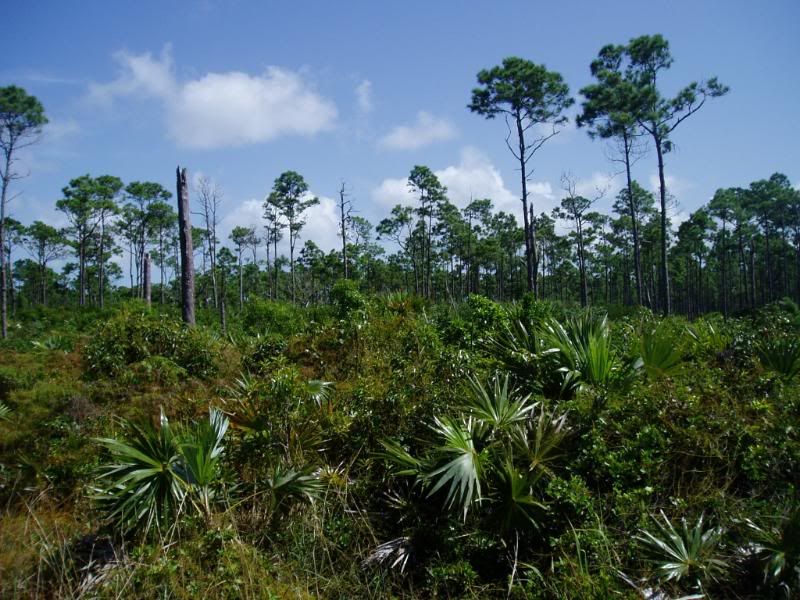 Cave at the park. The top of the cave collapsed so they put some platforms and stairs into it so you can see it all. They're mostly full of water and meet within the park (there are 2-3 openings to the caves)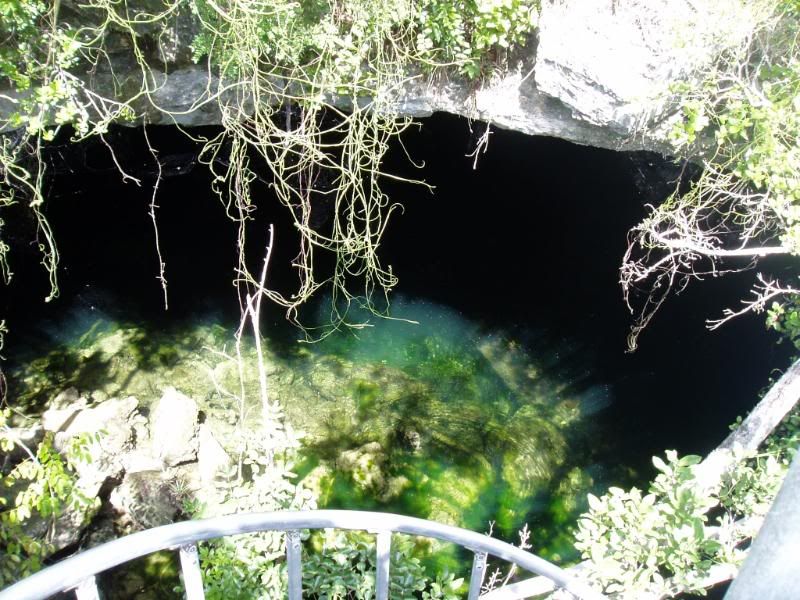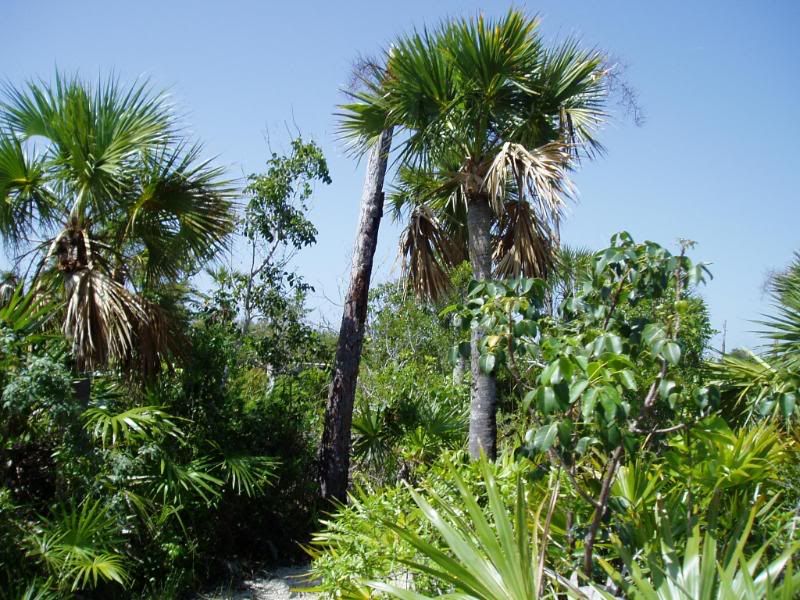 Gold Rock Beach, which is found via the walkways in the park. Filmed Pirates of the Caribbean I and II there. SOOOOO crystal clear and beautiful (the beach at our resort was full of TONS of seaweed thanks to Gustav and Hannah) since it was way east of the areas that were being hit by storms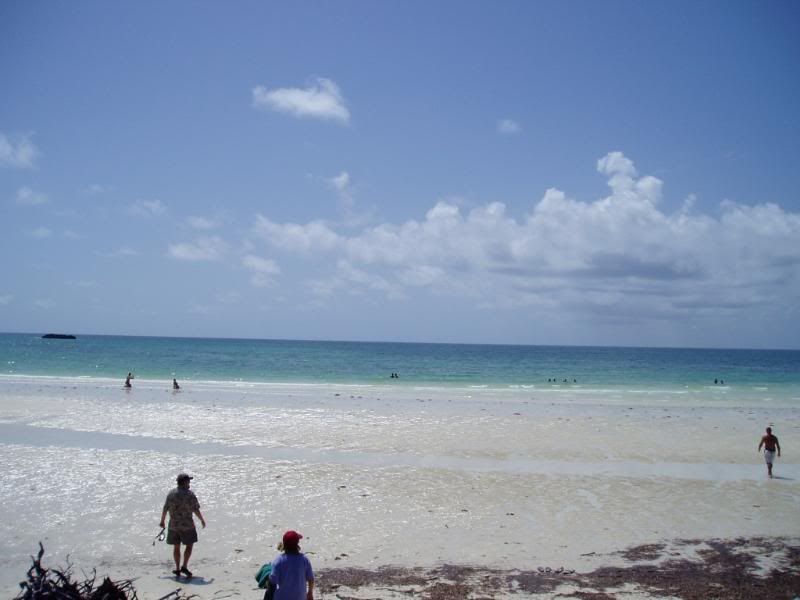 International Bazaar. Located near downtown Freeport. The hotel nearby was destroyed in a hurricane in 2004 or 2005 (I forget what they told us) so the Bazaar lost a lot of business. On a good day, it's about 25% operational. Since we were there during the low season, it was completely dead. Also, VERY hot and humid. Sweating like crazy.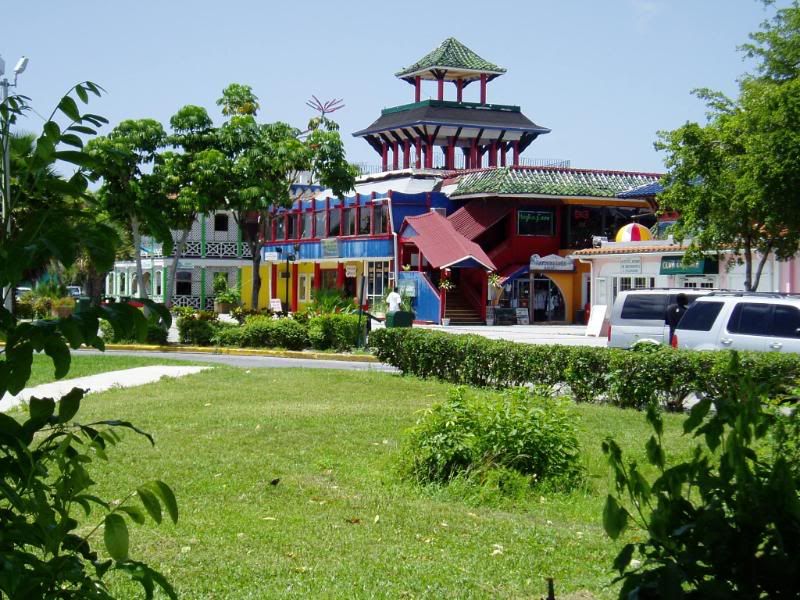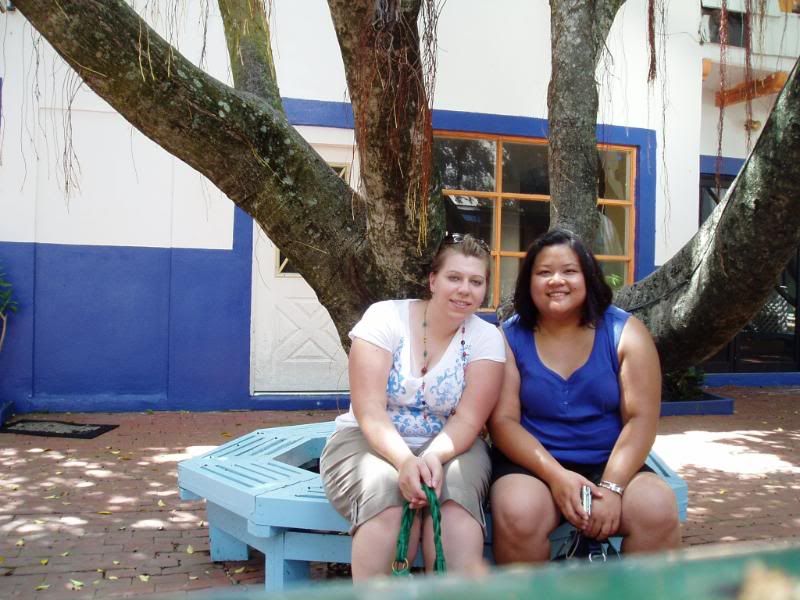 Back at the hotel. Our basic schedule was "Do something outside (shopping, roaming, whatever), go to pool until 6ish, shower, go out to dinner, drink.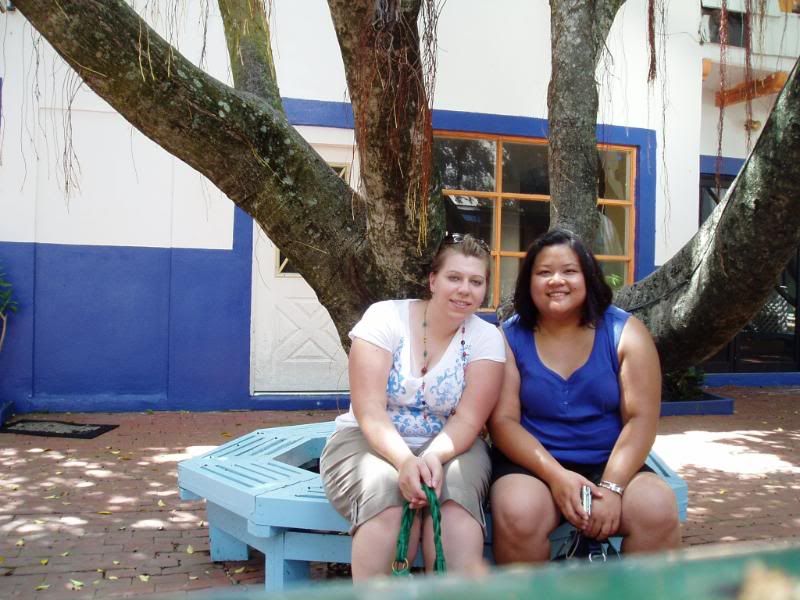 A bunch of coconuts fell from a palm tree near the pool. Izah snatched one. It was fresh, but not ripe. Not very good.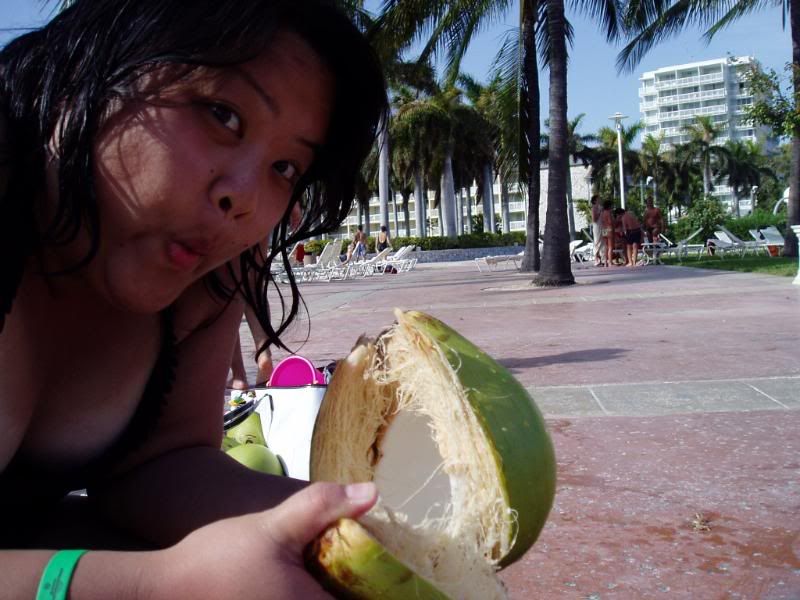 More beach scenes from our hotel area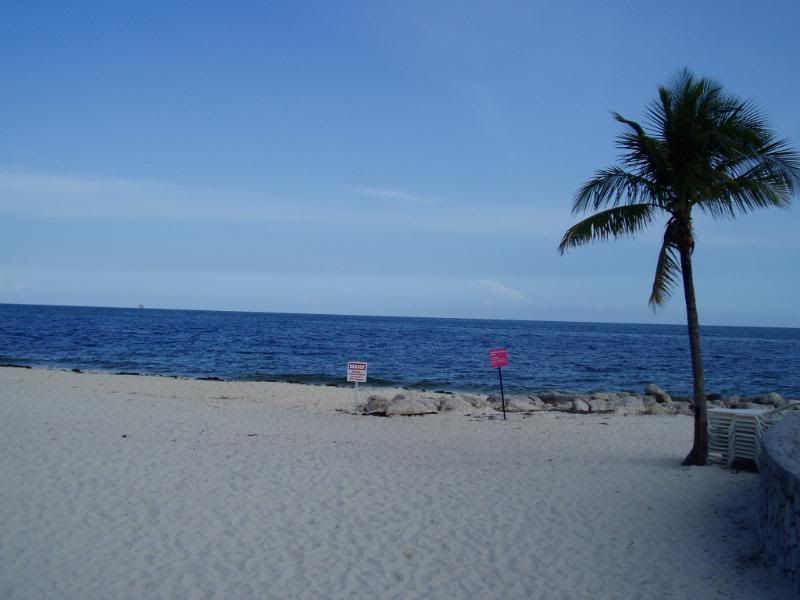 Hayward told us about the Fish Fry - basically a block party dedicated to conch, drinking, and dancing on the western side of the island. It was okay, we just drank Bahamian beer (Sands) and talked. Hayward showed up and then taught us the Cupid Slide.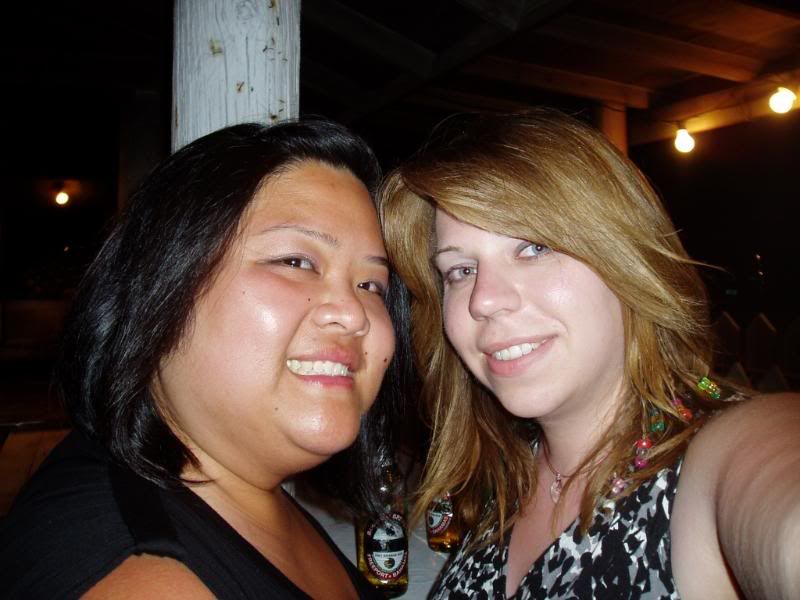 Thursday, we had to return the car by 11, but wanted to visit Gold Rock Beach again. We were up at 7:30am to get over there. The swampy areas combined with high tide and all the walkways were flooded. It was cool (as in cold) but attracted the mosquitoes, which were already eating us alive every night.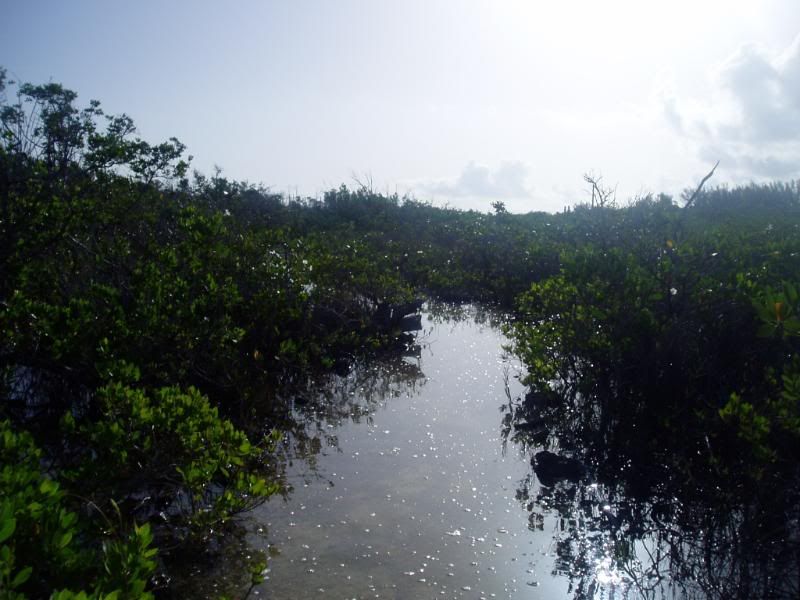 Gold Rock Beach in the morning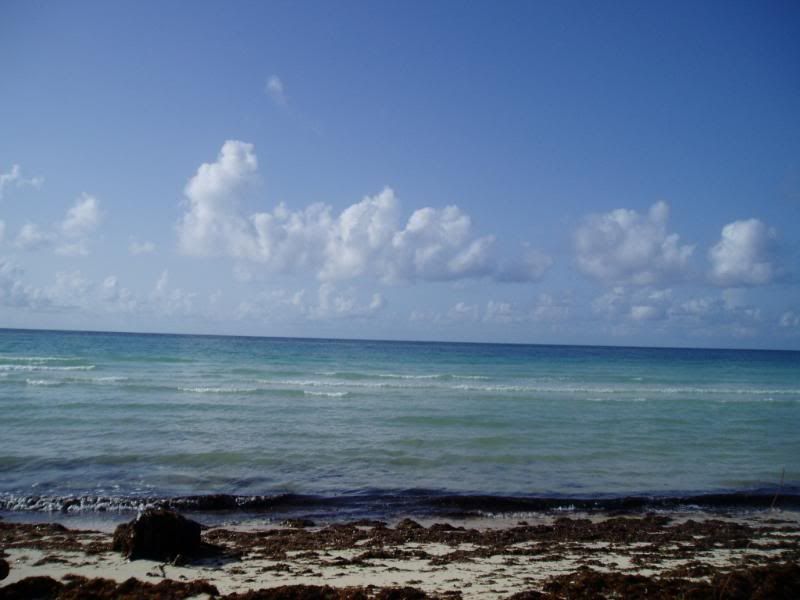 At night, I ordered Pirate's Juice, which has like four different flavors of bacardi and three juices. VERY tasty. Was like Hawaiian Punch.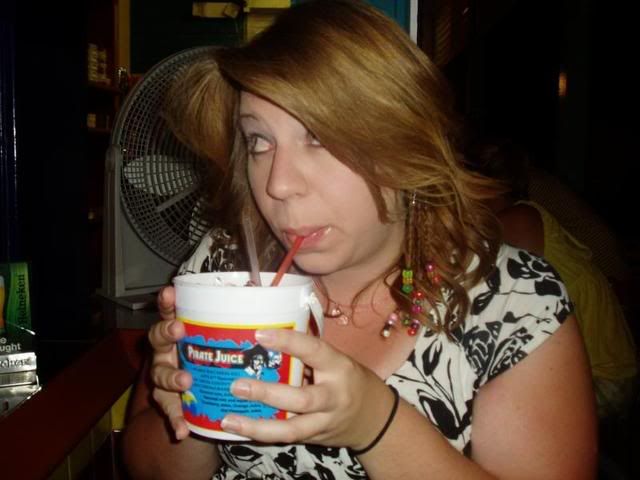 Dion, guy who was all into Izah. The one she also disappeared with on Saturday at our hotel, which threw me into a tizzy.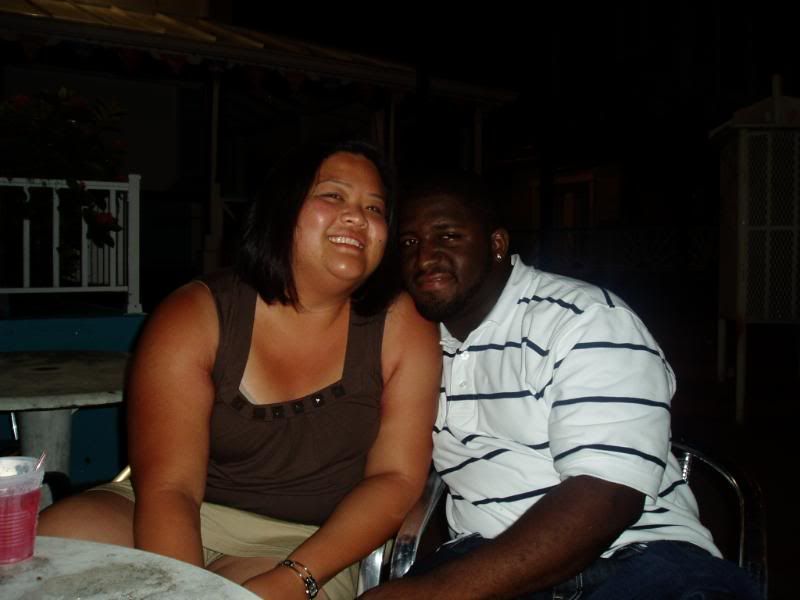 Kitty that hung out in front of our hotel at night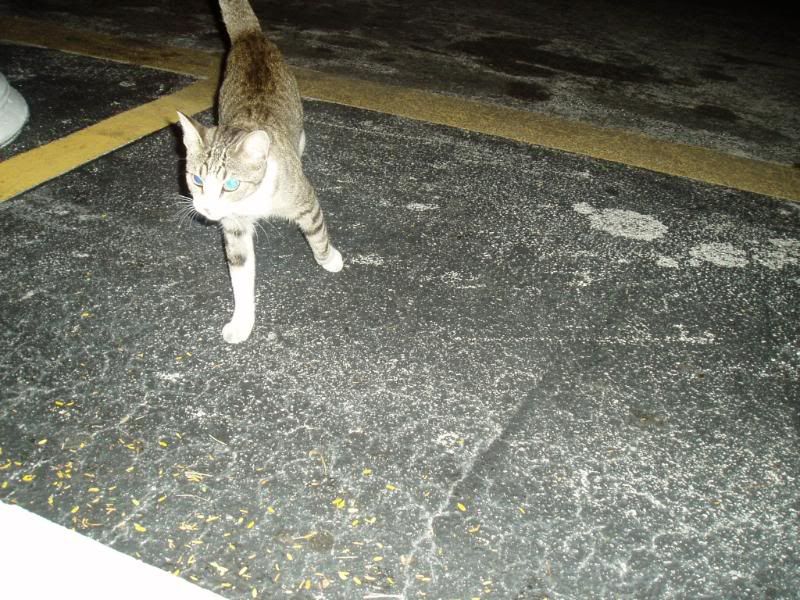 Friday during the day it rained on and off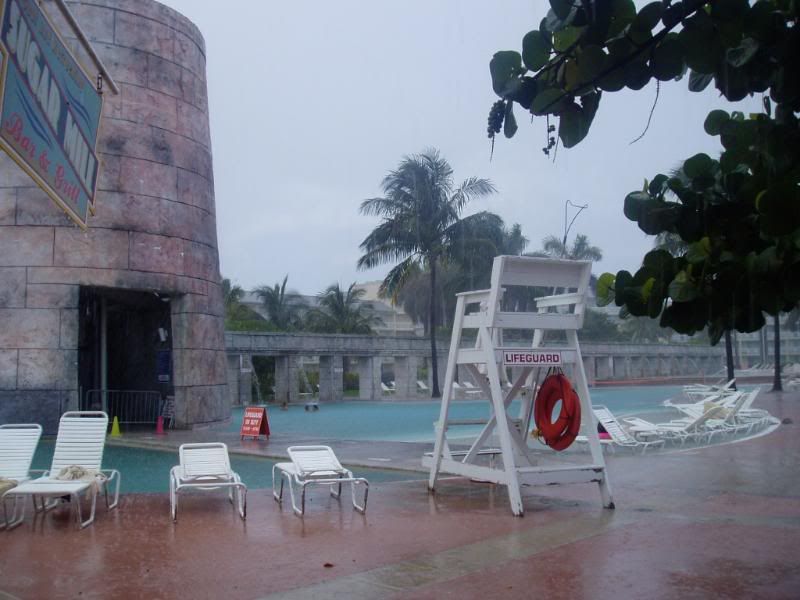 Cleared up enough for Bahama Mama Sunset Cruise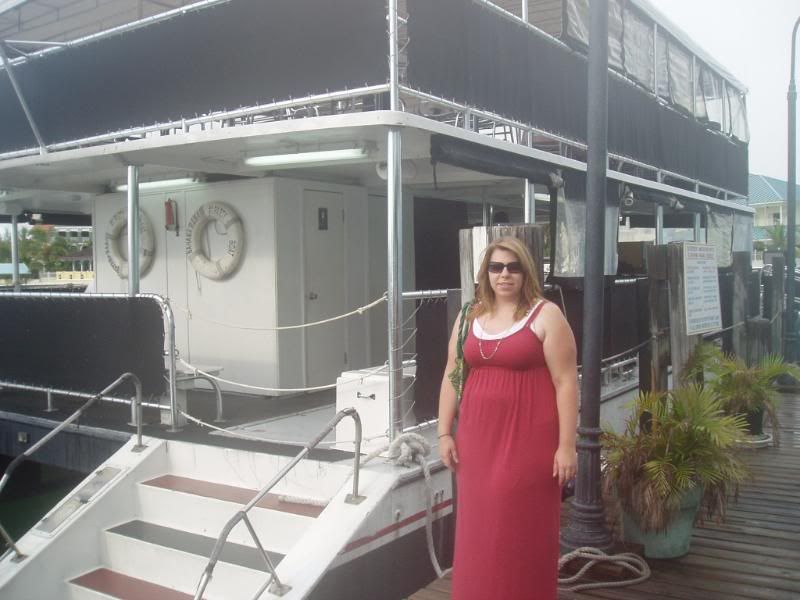 The hotel next to ours, which we want to stay in if we ever go back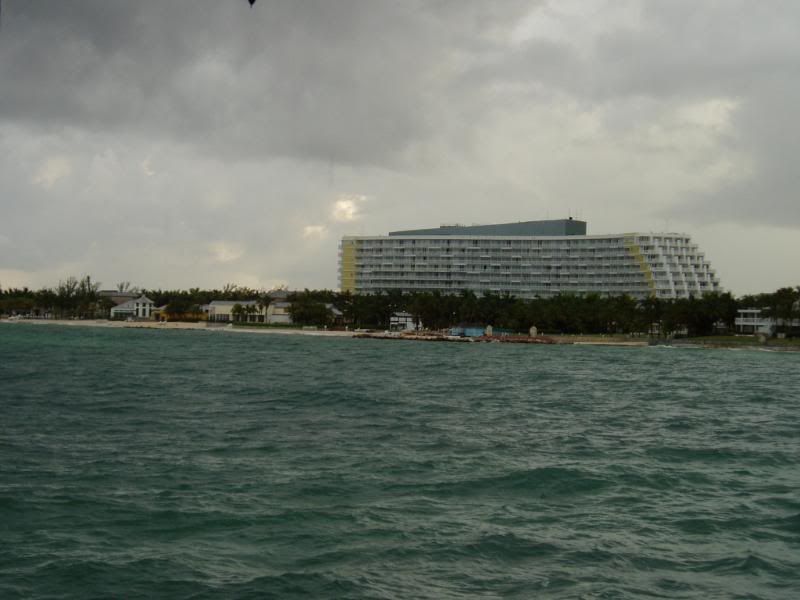 Us on the cruise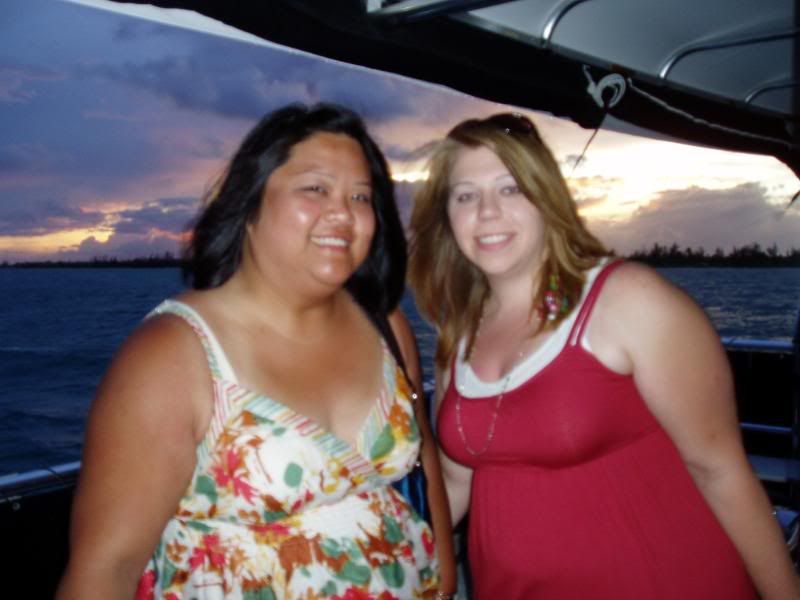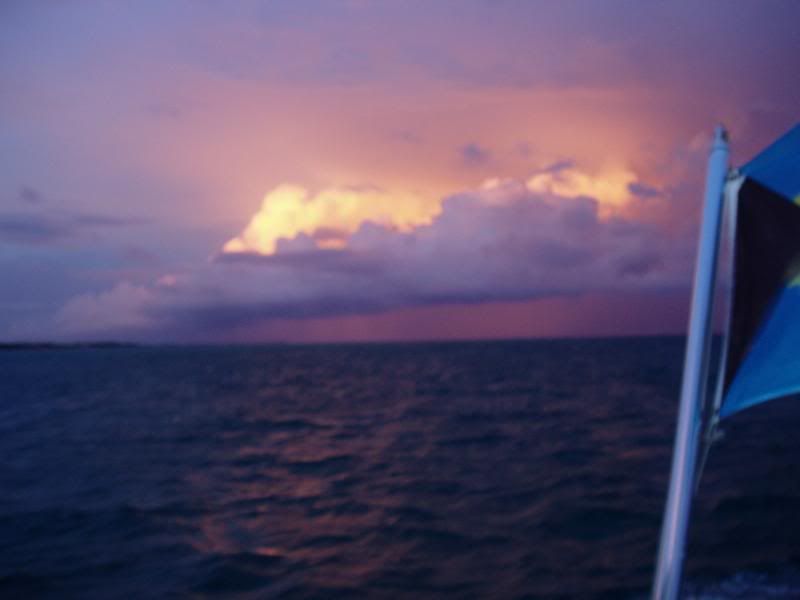 John, another of Izah's lovah-lovahs. He was a dick when she told him I wouldn't let her go back to his house with him. He said I was racist. I laughed and said "If I didn't like black people why would I come to The Bahamas?" Dumb.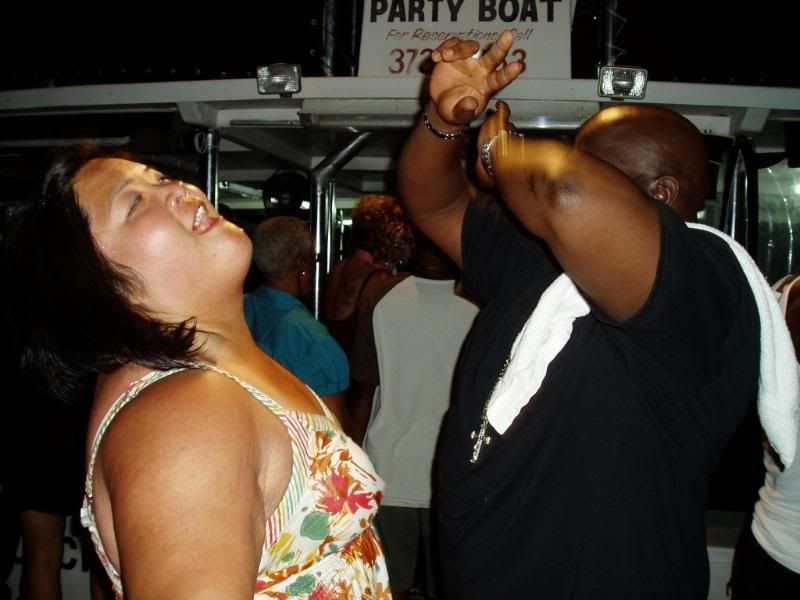 We met Lucas at the Fish Fry, but he got pissed when Hayward butted in and took us off. We ran into Lucas nearly every night.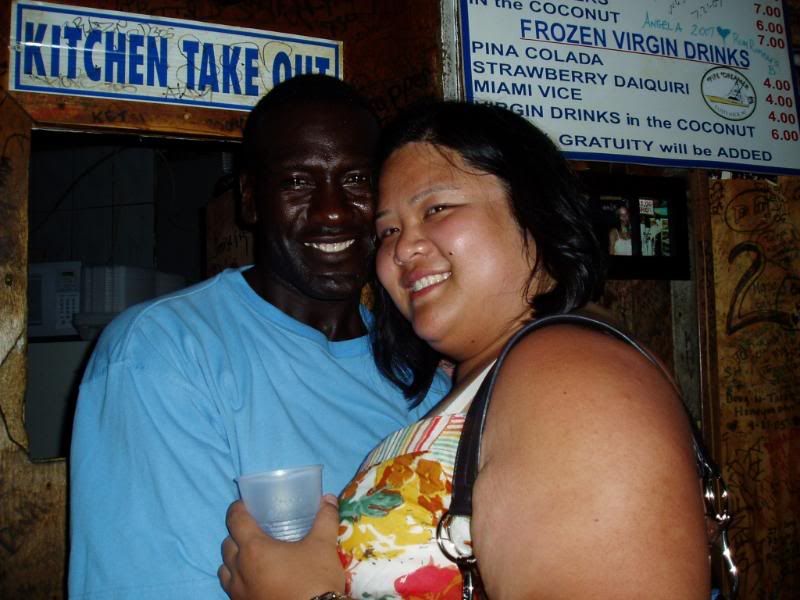 This crazy beyotch was on our cruise and showed up at the Marketplace each night in another sequin-y dress with the same gloves, shoes, socks, and awful tranny make-up.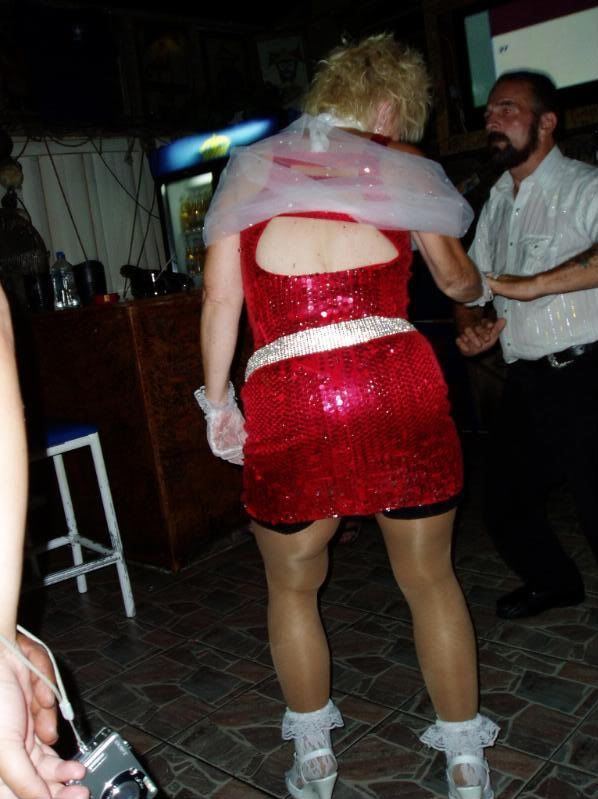 Friday night was when the whole Amy being wasted or something debacle happened. Izah had to carry me home. It was not good. I don't remember running into people I apparently saw (they told me Sunday night about conversations we had). Saturday we had the Dolphin Experience (Izah has photos), then napped a bit. We eventually (against my real want) went out to Prop Club, the happening place for Saturdays.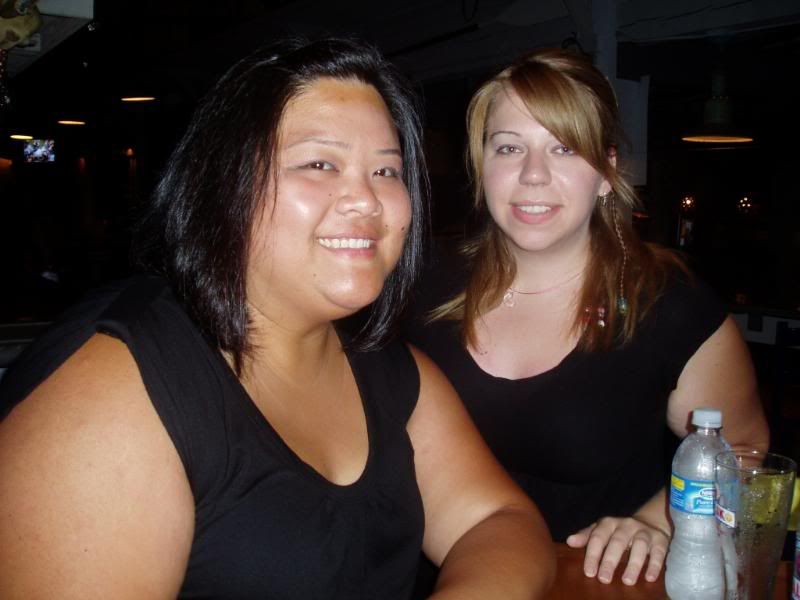 It was dead (or really just a little early for anything good) so we went back to the Marketplace. We hung out in the open area by the Courtyard where bands played on the weekends. This one ranged between Bob Marley, Lynrd Skynrd, Luther Vandross, and traditional Bahamian music.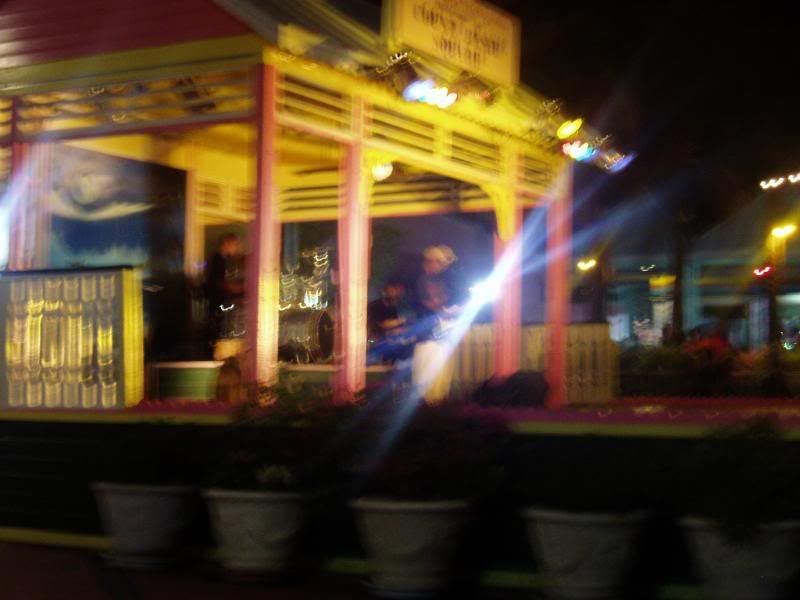 It was so humid my hair looked like shit and I was REALLY wanting to go home. But both John and Dion were there that night so I tried to hang tough for Izah.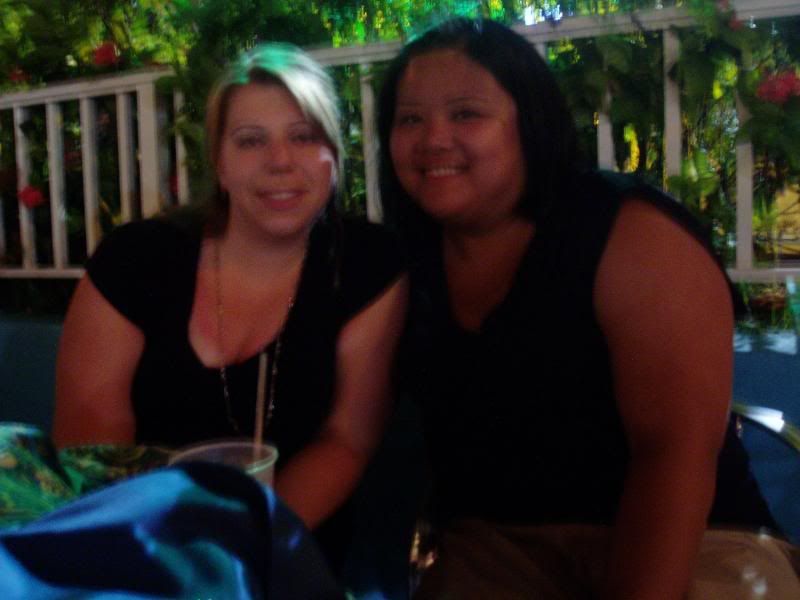 Sunday we finished shopping at the Marketplace (for souvenirs and such) then spent a long time at the pool and beach. I was trying to even out my tan/burn. But really just burned everywhere.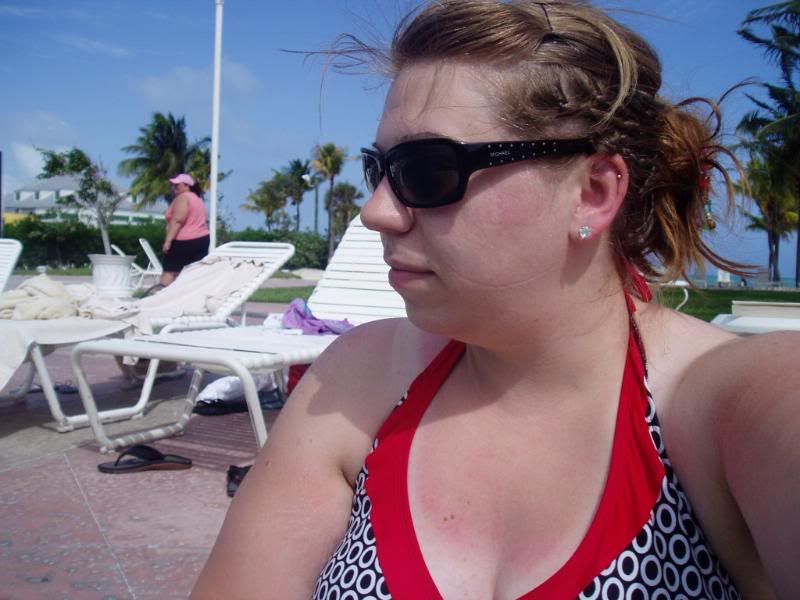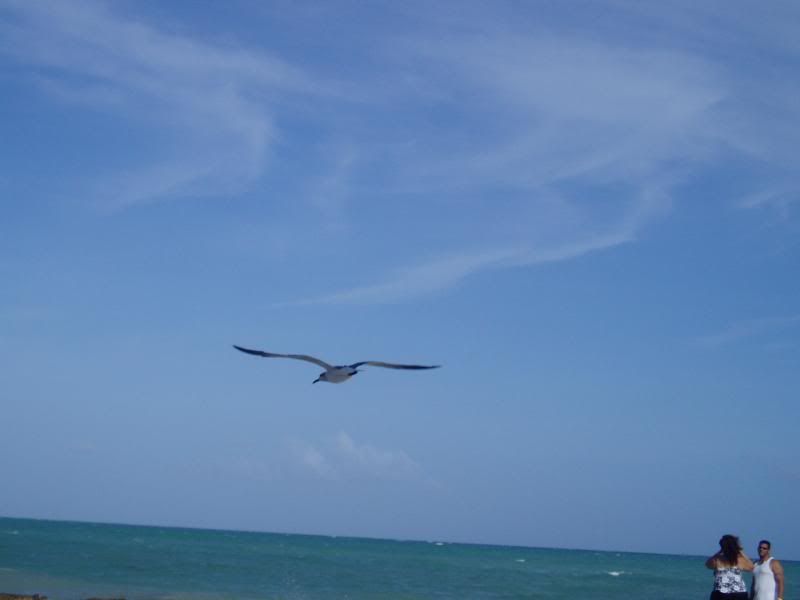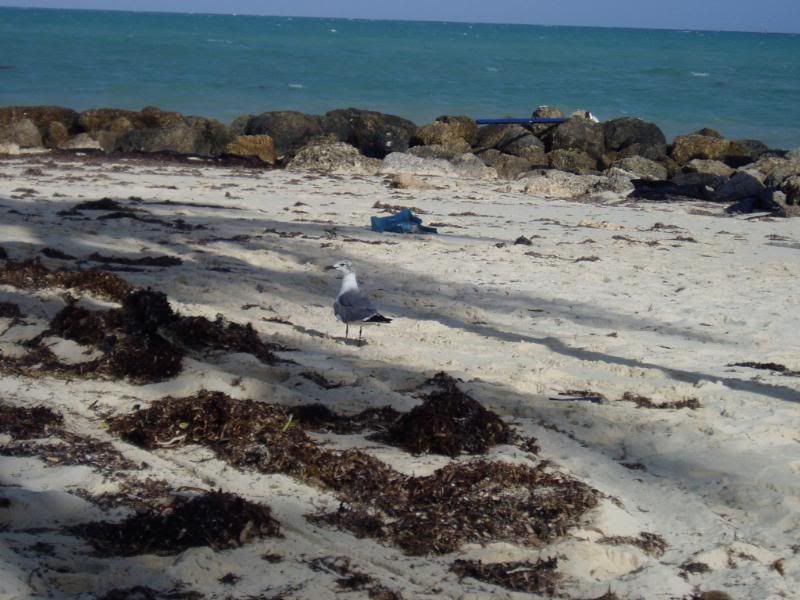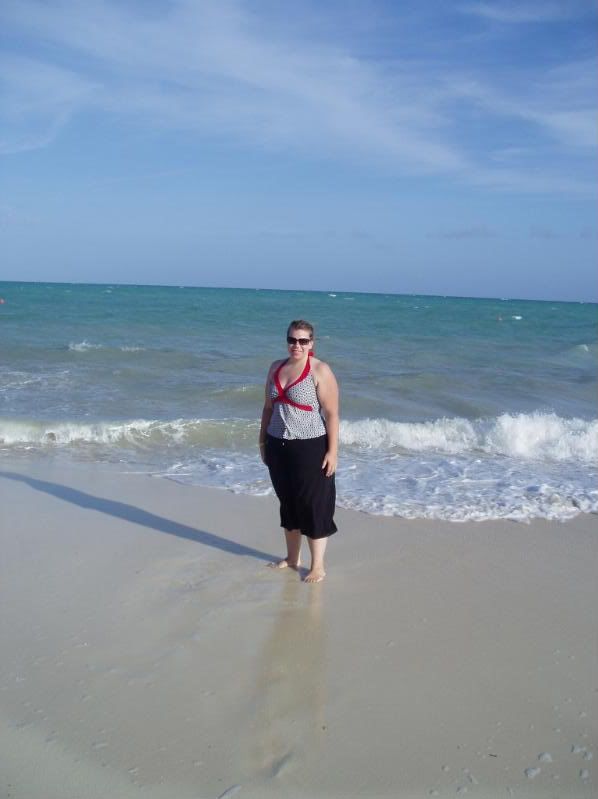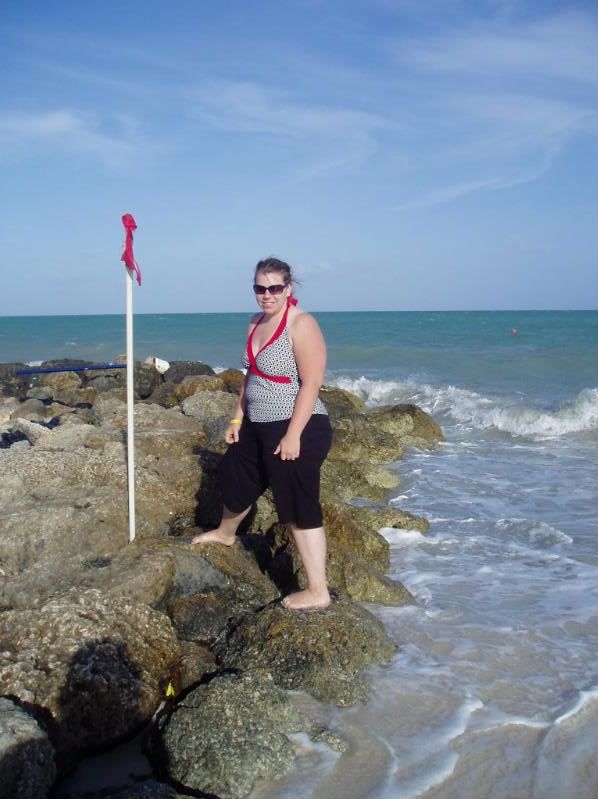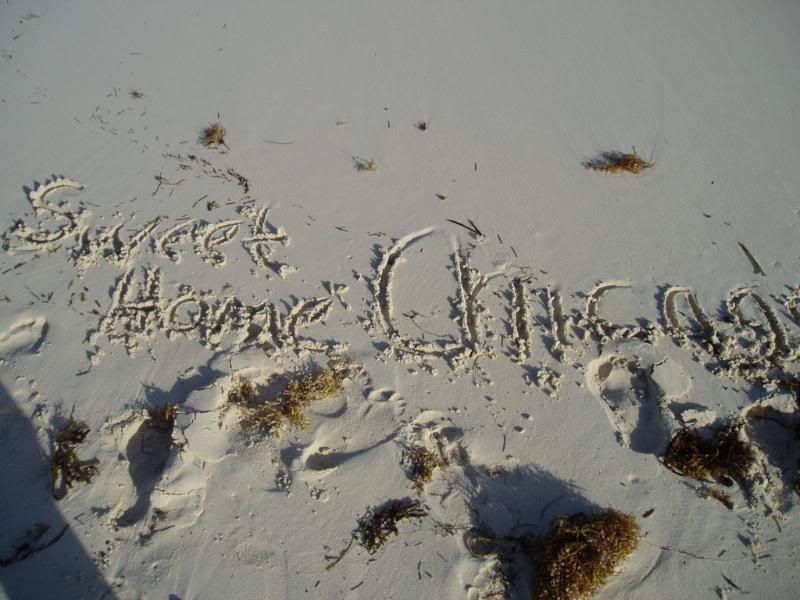 The cool colored chairs in the Marketplace that told us where to turn to get to the Courtyard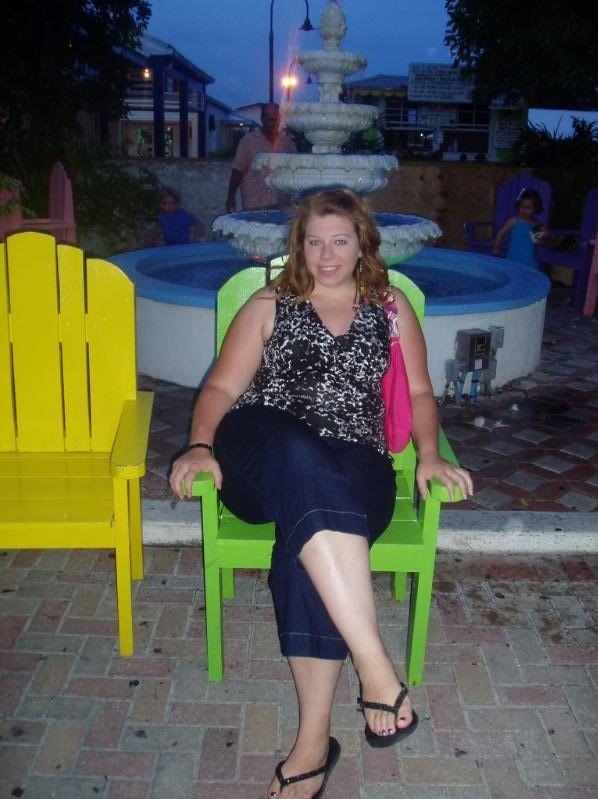 Another view of the Marketplace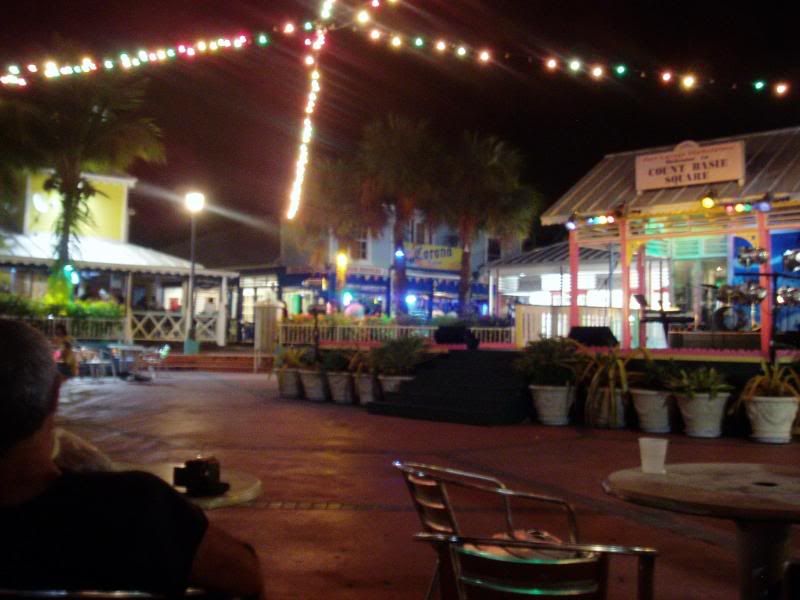 William, DJ on the Booze Cruise, who I thought was kinda cute. We flirted a bit (on the notorious drinking night) but I wasn't terribly excited about him so I laid off.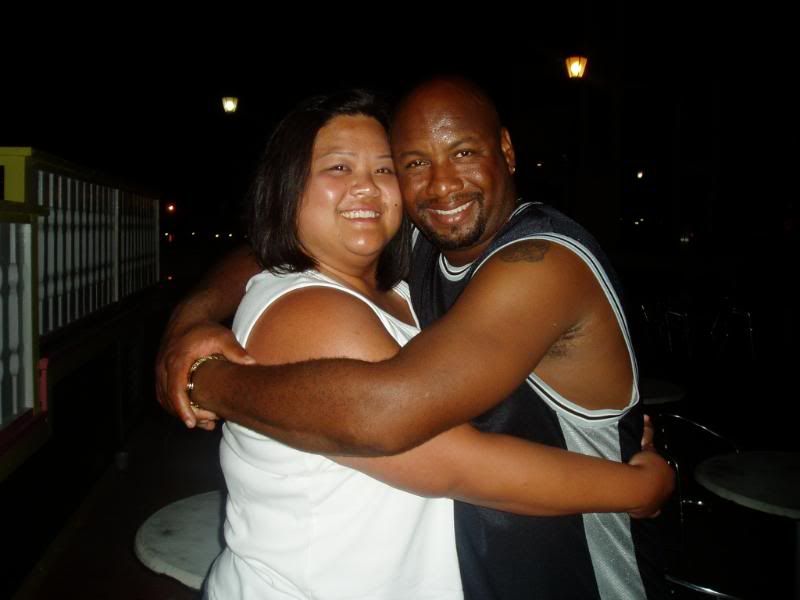 Did I mention I got a few hairs braided?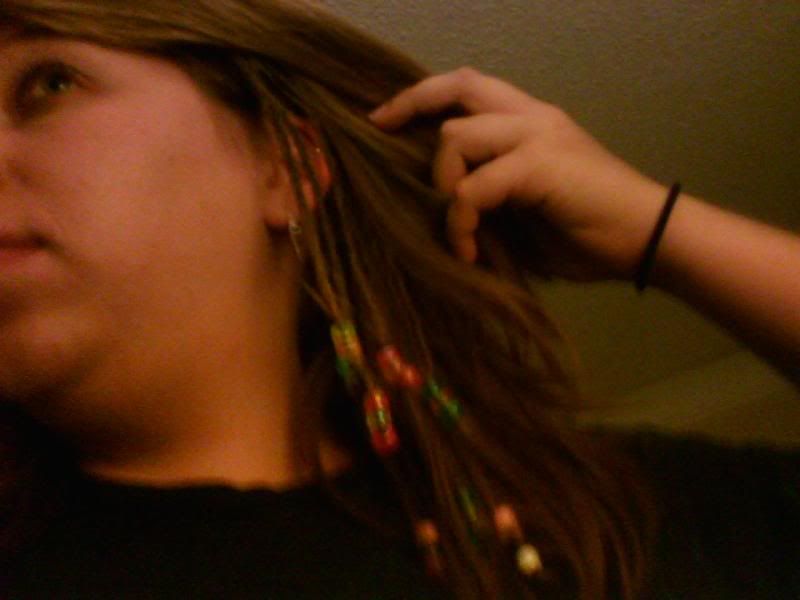 The burn on my leg. My bathing suit bottoms were like boyshorts, so I got an awesome line across the top of my thigh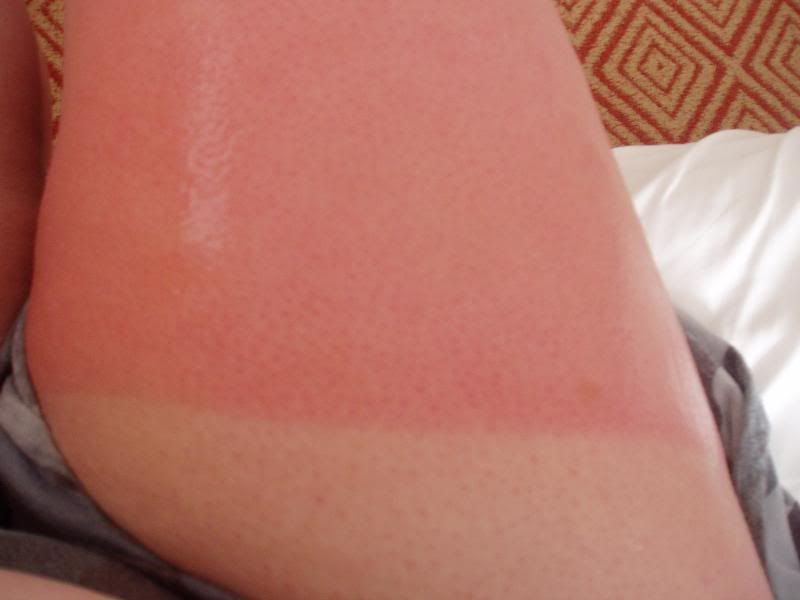 The burn at the back of my next, which seems to be infected or something. It's all peeling and seems like clear puss-y stuff.